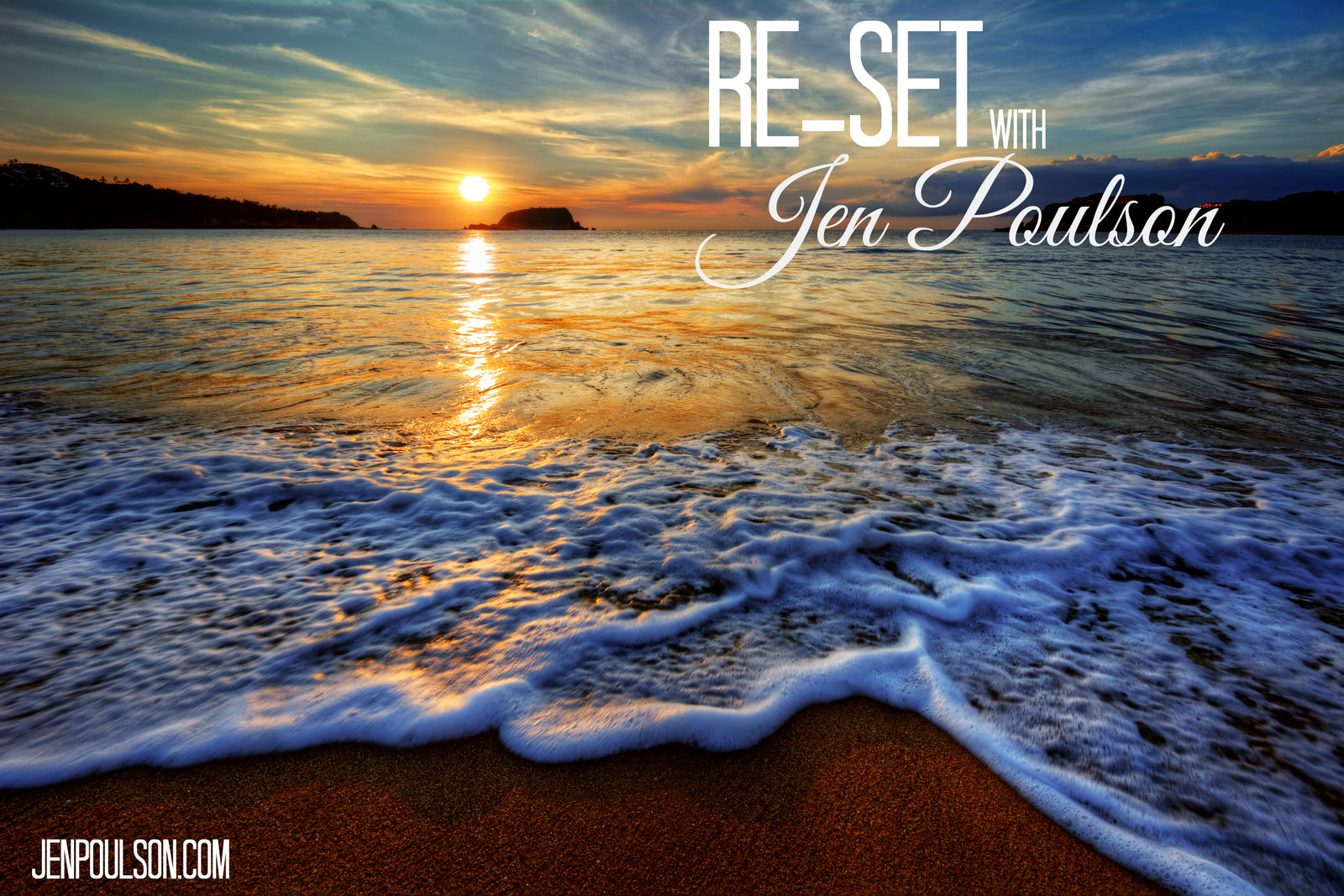 Last week on my personal Facebook page I began a RE-SET campaign.  I had been feeling worn down after the adrenaline wore off since my son's homecoming from his 2 year mission to Brazil, followed by preparing for a house full of family guests to help us celebrate his return.  It was a wonderful time spent with family, but I was tired after saying the last goodbye.  What I really wanted to do was to go to the beach for some rest and rejuvenation, but that was not possible with kids being in school and my clients not wanting to be put on hold any longer!  I decided that I would do something every day that would help me get into a routine of taking care of getting my rest and rejuvenation a little bit at a time, at home. 
Check out the list below for all the tips and for more tips throughout the week!  I would love to know your favorite ways to rejuvenate at home - I'll even ask you to do a guest facebook post if I love your idea!
RESET LIST
Tip #1 - I told my husband that I need a "reset!" I'm starting with water! My goal is 4 quarts a day. Adding a few drops of pure essential oils helps gently detox the body, and keep my taste buds happy! These are my favorites: lemon, orange, lime, and tangerine!
Tip #2 -  Clean up some clutter in your space. There's something magical that happens when I clean up clutter in the space I live and work. I feel emotionally and mentally lighter. It reduces mental stress and opens my mind to new ideas, recognizing inspiration, positive mindset and being able to have fun. I cleaned my kitchen, put away some laundry & picked up clutter in my room!
Tip #3 -  Do something you've been avoiding! We all have that list...it nags in the back of our minds! Maybe it's writing that thank you note, visiting a new neighbor, balancing your bank account, asking someone for forgiveness, taking time to read, paying a bill, sweeping out the garage, etc. I made little breakfast quiches to store in the fridge for quick, healthy breakfasts for my kids as they're running out the door in the morning.
Tip #4 - Have an uplifting, inspiring conversation with someone older and wiser than you! I had the chance to sit and chat with my Uncle Dave recently. He is one of those guys with quiet strength. He is not going to make you listen to his opinion, but if you get the chance to sit with him and talk about life, he will open up and answer questions and share wisdom in his quiet, humble way. Heart-to-heart talks are a gift and inspiring!! Thank you Uncle Dave!!
Tip #5 - Make some time to just be still. No checking email or texts. Just you & God. My still time includes reading scripture, prayer & 10 minutes of meditation. My favorite meditation is Heather Noell's toning mediation. 10 minutes and I promise you will feel de-stressed, and mentally & emotionally calm. I always feel more connected to all I have going on in my life as I quiet my mind down with this meditation. I am able to hear guidance, inspiration & have my BEST ideas show up! You can download this meditation from my website on the free download page at jenpoulson.com or from Heather's website: thegivinggamefoundation.com. Remember to hum along with it for best results!
Tip #6 - Get outside!! When I had my friend Janica do a (remote) foot zone therapy session on me last week, she told me that some of my body systems were weak because I was not getting enough sunlight. This has a big impact on mood and energy levels! I have loved getting out & playing tennis with my son Mitch since he's been home from a mission for our church! This morning I went for a long walk - no phone, no music, just me, my thoughts, and God! Being outside is such a great break from all the electronics that seem to take over my life sometimes with my work, online calendar, facebook, apps, etc. Being outside is like an emotional and physical RE-BOOT for me! Sometimes I run into friends and get to have a fun conversation. Sometimes I meet a new friend that blesses my life in some way.
Tip #7 - Have you ever had someone pop into your mind randomly? Maybe a couple times over the course of a week or two? Tip #7 is to LISTEN & FOLLOW those thoughts! Dial the digits of that person you've been thinking of! You will be glad you did - and so will they!!
Tip #8 - Spend a little $$ on yourself today. How long has it been since you spent a little money on yourself? I know that as a mom of many years, there have been so many times I go without so I can get my kids what they want and need. It used to be a money issue. It developed into just a habit as our finances have changed and improved over the years. There have been many times I go to my closet on a Sunday morning to get dressed for church and realize I could really use a new skirt or new shoes, and I just have not made the time to shop for me. So take a little inventory. Go to your closet. What looks a little threadbare or worn out? What needs to be replaced? Look in the mirror and think about how long it's been since you got a great haircut and/or color. Or maybe there is a movie you have been wanting to go see or something special you have had your eye on to decorate your home? Whatever it is, no matter how big or small, go spend some $ on you!