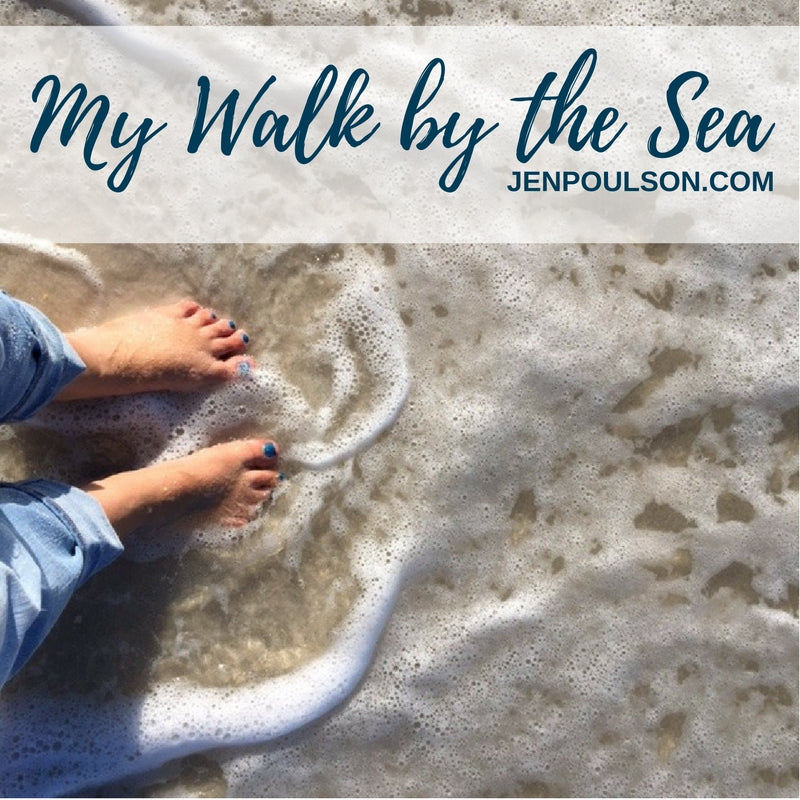 We spent the week of Thanksgiving break at the ocean, just as we have every year for the past 7 years.  Our family looks forward to this tradition.  This year, we missed our college kids.  It's not the same without them.
One morning, I went for a walk along the seashore.  It was a little chilly so I wore blue jeans and rolled them up a little above my ankles.  The water wasn't as cold as I anticipated, and I loved letting the water splash up on my feet and ankles. It felt refreshing.  The sunrise created a beautiful colorful scene and, for that moment, all was still and perfect in the world.  As I walked along, there were times that the water came up quicker and higher than I anticipated.  My jeans began to get soaked.  By the end of my walk, my jeans were wet all the way up to my knees.
I noticed that the water really weighed down my jeans; with each step, I felt heavier and heavier.  I thought about how, when we carry around our emotional junk, it has a heavy feeling to it.  In fact, sometimes it makes walking around life feel like a real burden.  It can slow us down and make us grumpy, and it feels uncomfortable.
I wondered how many people are walking around with the weight of their past or the weight of the current stress that's going on in their lives.  My guess is quite a few.  The longer I walked with my heavy, soaked jeans on, the more tired I became.  It tainted the joy I felt when I first started my walk.  
I used to walk around my life with that heaviness tainting my life experiences. There was beauty and joy all around me, but because of the weight of the emotional heaviness I carried around, beauty and joy became more difficult to see and experience.  Sure, I had moments of distraction where I would forget about the emotional weight I carried around, but it was always there and affecting how I perceived myself, other people and my experiences.  
One day I woke up enough to realize that I didn't have to walk around like that any more!  I realized that there was a way to change.  I figured out a way to let life splash on me like the ocean water and not be weighed down.  I found that I could let go of the old, heavy jeans, and choose new jeans.  I even discovered tools that, whenever I begin to feel the weight of the world trying to stress me out or hold me back, can help me choose to let it go.
Look down at your jeans...are they heavy with stress, fear, worry, doubt and past pain? Is it time to change?  Are you ready to be free to move through your life with joy and ease?  Is it time to see and experience the beauty that is RIGHT THERE for you?  
The first step is the most important - realizing how heavy the burden is.  The second step is just as important - the choice.  What are you going to do from this moment on?  Do you choose to keep walking around with the heaviness, or do you choose to change?  
My team and I are here to support you every step of the way.  We have lots of coaching programs for you to choose from.  We teach many tools that support your decision to change and make that change happen quickly, easily and joyfully!  You have an abundance of opportunities all around you.  You can do this!