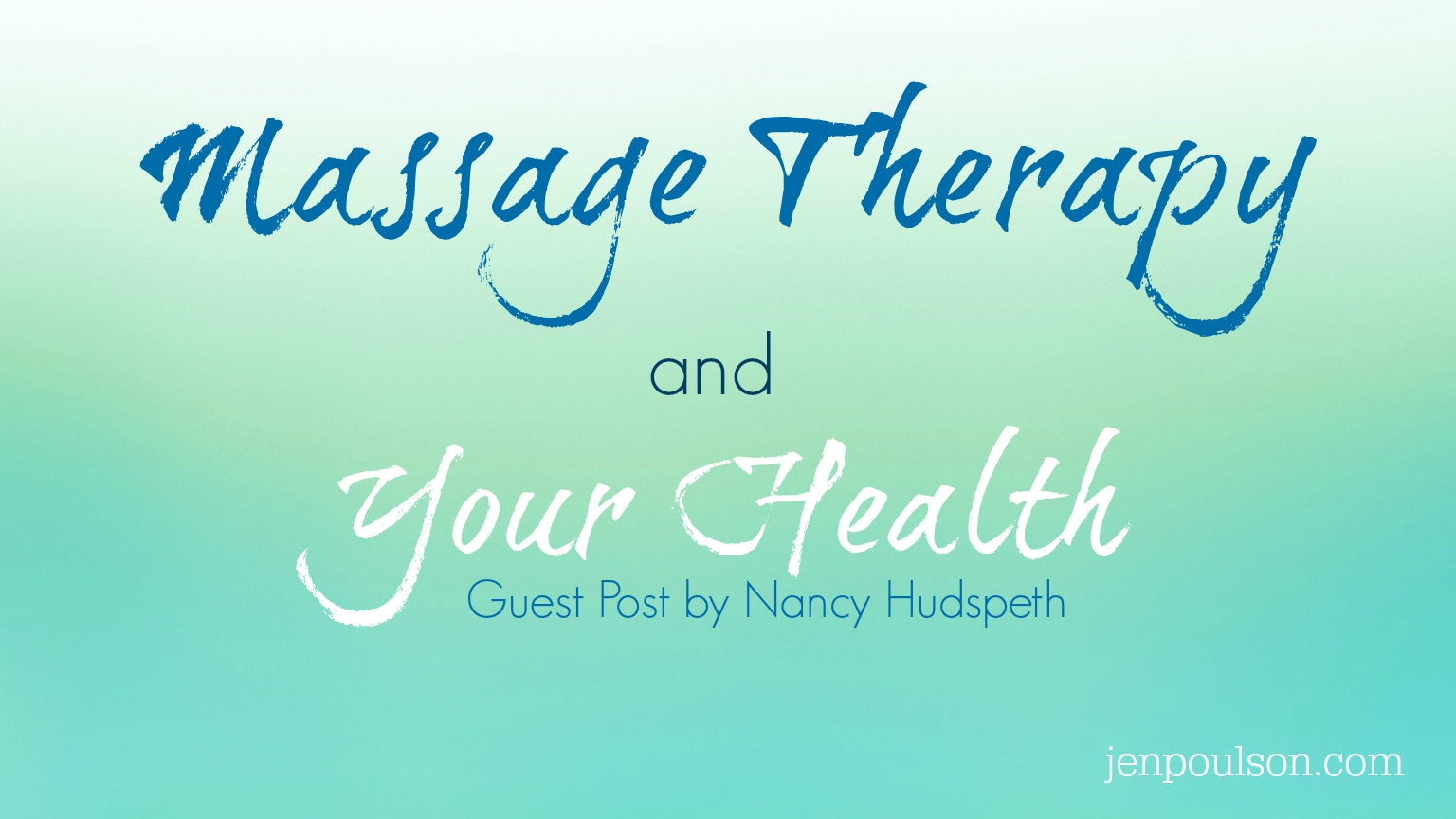 Nancy Hudspeth is a great massage therapist! Check out her guest post about how massage therapy can benefit our overall health. - Jen 
I never knew how much my life and immune system would change after receiving massage therapy. I had my first massage in 1997, just a year before I got married. 

I remember getting off of the massage table & thinking to myself, "If I could ever make someone feel like this, that would be the best thing I could ever imagine." The thing I didn't realize is that even the day after my massage, I still felt better. 

We lived in an area that didn't have a Massage Therapy school at this time, but fast forward six years, and I would be relocating to Birmingham, AL with my husband. Birmingham in 2003 was home to two very well known massage schools. I enrolled in the Red Mountain Institute of the Healing Arts in 2004. I do believe our move was part of a divine plan.

The gift of massage therapy not only makes our muscles feel well, it also can uplift you and change your emotional state of mind. When you feel good emotionally, you typically feel the same physically. When someone comes in with a migraine headache and they are in acute pain, after an hour of massage, their breathing habits have changed and they can let go of that tense feeling.
When this happens, oxytocin is released and can literally influence rest and the digestion mechanism in the nervous system. When we can digest healthy food properly, our immune systems work at a superior level which will improve our over all well being.

I have seen so many people in the last ten years really benefit from massage therapy when trying to get healthy. A deep tissue session can stimulate blood flow which will help your body get rid of toxins with the proper amount of water after a session.
Massage therapy with essential oils can be helpful during allergy season in Spring and Fall. The use of Lemon, Lavender & Peppermint together in a massage session with reflexology of the feet can really help as a natural antihistamine. 

Massage therapy has been known to lower blood pressure, improve sleep patterns, stimulate blood and lymph fluid, help with fibromyalgia symptoms, lessen headaches, improve prenatal discomfort, the list goes on and on. 

I would love to have the opportunity to help boost your immune system. I am Board Certified by the NCBTMB and a proud member of the ABMP. I have been licensed since 2005 and prenatal certified since 2006. I have seen so many changes in people after receiving monthly massages. Bodies feel better, they move more after a massage session. When you are able to exercise, go for a walk, sleep better, your body feels better emotionally and physically.

I would be honored to be a part of your journey to feeling healthy and happy. I am so proud of being a licensed massage therapist. 

Come see me at either of my locations! Call today for your appointment & receive $10 off  your first visit! 
205-531-2151

Greystone Chiropractic Center
5426 US 280 
Birmingham, AL 35242

or 

Spa 22
10313 Co. Hwy 22 Suite C
Calera, AL 35040 
Book online for this location:
http://spatwentytwo.wix.com/spatwentytwo
(Just click on Nancy Hudspeth)
- Nancy Hudspeth