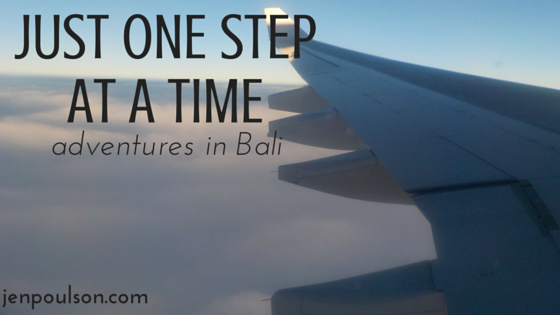 Several months ago, I had an interview conversation with Morgana Rae.  She was looking for a handful of women who seemed like a good match to fill spots for a retreat in Bali.  I had come to the realization that I needed to work on my own emotional and energetic blocks with someone who was further along the path than me.  
I have been following Morgana for a few years online, had purchased some of her online programs, and even attended an event at her home in California last November.  I trusted her.
Saying yes to Bali took every ounce of courage I had.  I was saying yes to travelling halfway across the world, and that scared me.  I was saying yes to the biggest financial investment I have EVER made in myself, and that scared me. I was saying yes to spending a week with 5 other women I had never met, and opening myself up to reveal my very innermost fears and doubts, and that scared me.  I was saying yes to trusting in an emotional release process that I did not know many details about, and that scared me.  I was saying yes to upleveling ME, my relationships, and my business - and that scared me. I wanted it all, but it all scared me!   I was saying yes to following my gut feeling of JUST SAY YES!  And that scared me!
I said yes and felt good about it...for a while.  Then the worry, doubt, and fear tried to creep in.  I worried about what people thought of me going.  I didn't have a logical reason to give my husband for going.  I procrastinated getting my passport. My sister passed away just a few months before the retreat, and I had no idea what state of mind I would be in.  I kept taking each day at a time, one step at a time.  Things kept falling into place for me to go and I knew I was on the right path.
The day came to travel to Bali.  I was so scared!  It didn't make sense logically; I just knew my emotions were on overload!  I kept hearing these words come to my mind: "just take one step, one moment at a time."  So I took some deep breaths and set my intention to do just that.  One moment, one step at a time.  When I allowed myself to relax into the experience, my level of inner peace shot way up.  
As I boarded Korean Air in Dallas, I took a deep breath.  The Korean flight attendants were amazing and took really great care of all of us on that 14 hour flight!  They worked together in happiness and harmony that I have never experienced on any other flights I have been on.  It calmed me.  
Landing in Korea was the next step that scared me.  I just remembered to breathe as I was getting off the plane, trusting that I would be able to figure out how to get to my connecting flight.  As I approached the end of the tunnel after getting off the plane, I saw an airline worker with a sign that said Bali on it.  I approached him & told him I'm going to Bali, he called me by name, and said, "I will take you to your next flight."  Could it have been any easier than that??  It was quite a walk to the next flight and I remember wondering how I would have ever figured it out on my own, especially being so exhausted from my previous flight.  
I boarded the next plane and guess what?  Nobody was in the seat next to me!  I was actually able to put my puffy feet and legs up and sleep a little.  
The next step was Immigration & Customs in Bali.  That scared me.  I had no idea what the protocol was. It had been so long ago since I had traveled outside of the country!  I took some breaths, found my way easily, and then found my driver who was waiting in a crowd of drivers...I saw my name on his sign and felt immediate relief and peace!
Just getting myself from Alabama to Bali, Indonesia was an amazing learning experience.  I faced so many fears in that 30 hour experience and got to practice the concept:

Feel the fear and do it anyway!
I got to REALLY discover that I am stronger than my fears!!  
Do you have fears that are holding you back and you can't seem to move past them?

 My team & I are here to help!  We specialize in helping our clients remove the blocks that keep them stuck in fear!  Are you ready to be free to move about your life?  Contact us at admin@jenpoulson.com to set up a casual, informational conversation.  We've got you covered!