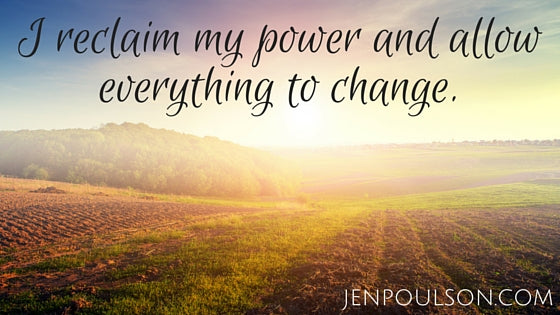 I reclaim my power and allow everything to change!
This is one of my all-time favorite affirmations. It is such a great reminder to pay attention to what I am focusing on.  
If I need to reclaim my power, then I need to stop the negative thinking.  If I need to reclaim my power, then I need to stop saying yes to things I really don't want to do. If I need to reclaim my power, it means that I am giving away my light to negative thoughts & judgments about myself, others, and my circumstances.  The more light I give away to negativity, the less power I have to create joy in my life.
When we shift our focus and open up to all the good and all the possibilities, then we allow for new outcomes, new inner feelings of peace, joy, and love - and life can not help but change in really amazing ways when we are focused on and connected to peace, joy and love!
Here are 3 simple steps to reclaiming your power:
#1 Increase your self-care  

This is not about being selfish or putting others on the back burner.  Self-care is taking time to take care of your spiritual, physical, mental and emotional health.  When you feel connected to God, to your purpose, and to your life, you will have more physical, mental & emotional energy.  You will be able to show up as your best self.
#2 Stop the stinkin' thinkin'!

 Remember that what you focus on expands!  If you allow yourself to dwell on all the things that go wrong and all the ways people have wronged you, the simple truth is that you will attract more of what is going wrong! Focus on what you want to go right.  Focus on what YOU are bringing into every relationship and every situation.  Are you bringing peace or are you bringing...something else?  Choose peace, love, compassion & forgiveness.
#3 Make an Integrity List.

 Make a list of all the things you put off doing that nag at you in the back of your mind.  Unfolded laundry, paying a bill, returning that redbox movie, making a family dinner menu, cleaning out the kitchen junk drawer, writing that thank you note, making follow up calls, spending more time with family, etc. Your Integrity List is a powerful tool you can use to increase your inner power and self-confidence.  When you are having a "down" day, just choose a couple things from your Integrity List and get them done!  You will be amazed at how quickly you will begin to reclaim your power!
Still having trouble letting go of that negative head trash talk?  Still feeling disconnected in your relationships?  Still lacking in confidence, inner peace and a sense of your personal power?  My team and I are here to help!  Contact us for a quick consult to find out if we are a good match.
Now...go out and reclaim your power and allow everything to change!