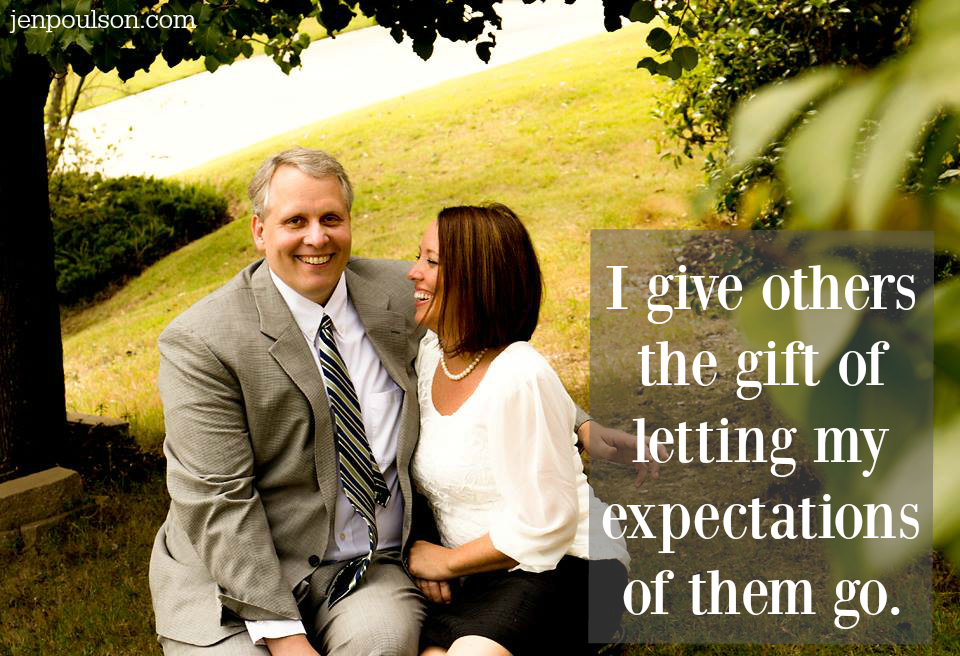 The other night I started a fight with my husband.  It started in my head.  I had not been feeling very well over the weekend and so while he ran the kids to and from their activities all weekend, I rested.  By Sunday evening I was feeling

okay

, and got up off the couch to assess the mess.  The kids were tucked in bed.  My husband was sitting on the couch watching a show.  I was standing in front of a sink full of dishes I did not want to wake up to in the morning.  As I began emptying the dishwasher and filling it, my mind began to fill with all kinds of stories.  I would glance over at my husband on the couch all comfy while I was there cleaning up the kitchen mess and wonder - can't he see me doing this work all by myself?  Why can't he just get up off the couch and come help me?  After all, he got an afternoon nap.  These questions quickly turned to assumptions of - he doesn't care about me, he expects me just to clean up everyone's mess, he is so thoughtless, if he really loved me he would get up and help me.  In less than two minutes, I was ready for war.  But instead of saying anything, I stomped around, and announced I was sleeping in the basement on the couch where our daughter with a shoulder injury was sleeping in the recliner.  I did not offer any sort of kindness like a smile, a kiss, or even a verbal good night.  I just stormed off.  Well of course I laid on the couch super annoyed and I was determined that I needed to tell him how I felt (as if he wasn't aware).  I needed to tell him that he didn't care about me enough to get up and help and that I am not just the maid.  So I did.  I spoke my mind. 
Um...that did not go over too well.  I stormed off again with even more stories in my mind.  I laid down on the couch again and my mind began to quiet down.  I started to think about how he had covered everything all weekend.  I thought about how even though he had a nap, he could still be tired.  I thought about how every other time I have asked for his help, he helps.  I thought about all the good he does for our family and the stress that he has with work.  He suddenly became a real person with real feelings and real worth again. 
This affirmation came to my mind:  I give others the gift of letting my expectations of them go.  What had happened in my mind in that quick 3-4 minutes discounted all the good I know about my husband and cancelled out my gratitude for him.  Instead of just asking for help, I got caught up in some crazy victim thoughts and stories, and started a fight.  I blindsided him. 
I got back up off that couch.  I slowly walked back upstairs, my head hanging a little low.  I quietly walked in to the dark room and softly offered an apology.  He  kissed me, and the peace between us was restored. 
It is so easy for those stories of people not living up to some non-verbalized expectation to start in our heads and create all kinds of frustration, judgement, disappointment, and even anger.  It happens in marriages, with our children, with friends, co-workers and even with people we do not even know as we're standing in the check-out line, driving, sitting in a restaurant, or even at church. 
Will you join me in being more conscious about stopping the stories?  I know I do not want to live my life trying to live up to everyone else's expectations.  I want the gift of compassion and acceptance for where I am on my path. I want the gift of open, loving communication and I am going to make a more conscious effort to give others those same gifts by letting go of my expectations of them.  Looking for and seeing the good in others is a more joyful way to live.  I am committing right now to do better, and to choose joy.