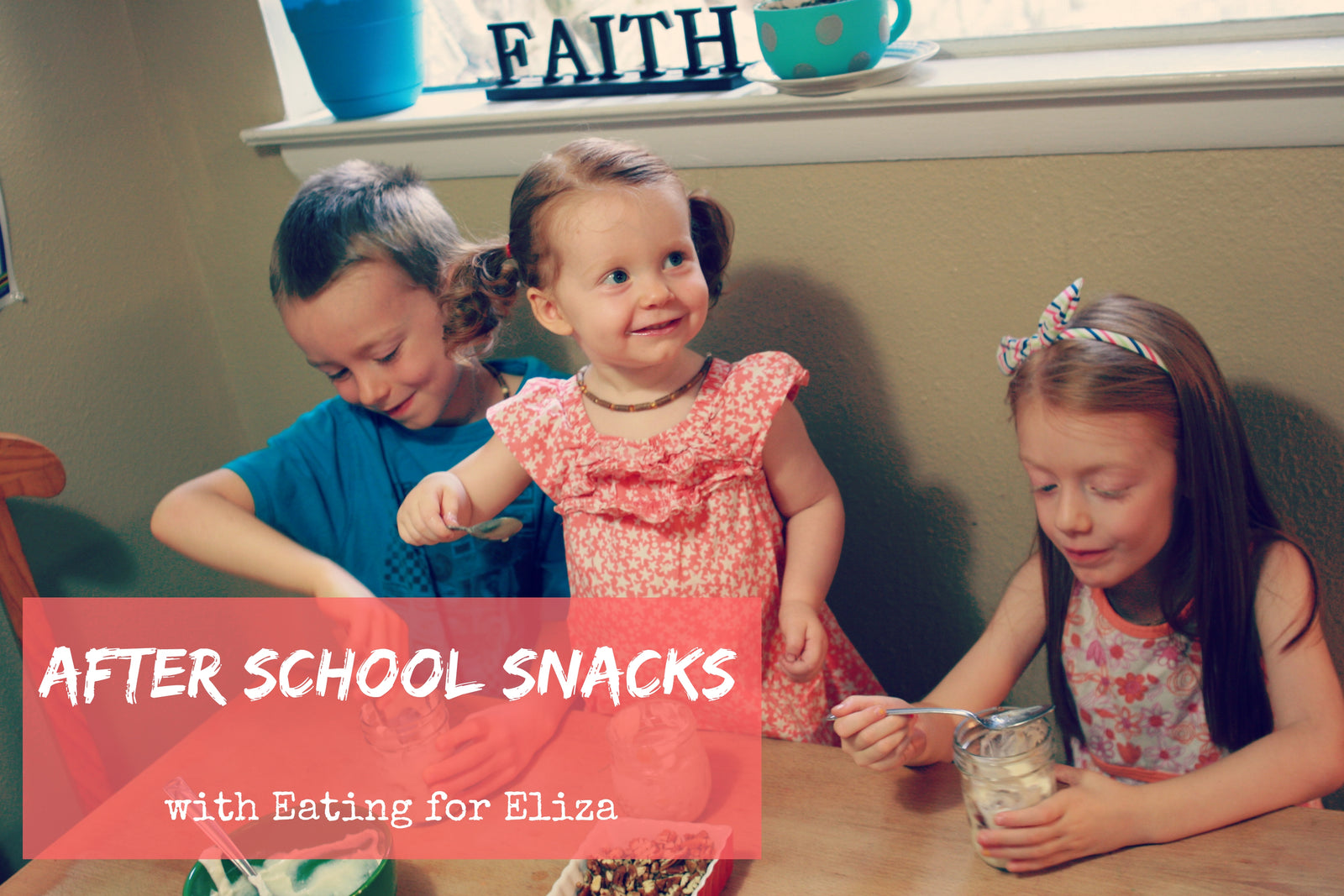 Hi! I'm Christine, Jen's administrative assistant. I'm so excited to be guest posting for Jen today! I'm also a wife, a mom of three, and a health and nutrition junkie. I've been Instagramming at @eating_for_eliza for a little over a year, and I just started my blog, eatingforeliza.com, a few months ago. My focus is helping families prepare fresh, healthy, gluten free meals, while teaching and involving their children.
This is Eliza.
She is my youngest, and she has changed the lives of everyone in our little family. When she was 2 months old, we discovered that she had severe food intolerance issues. Everything changed from that point on – we became a gluten free household, and my husband and I lost over 140 lbs between the two of us in one year. You can read more about Eliza and our story HERE.
Let's talk snacks!
My older two kids are in first grade and preschool, and they are always ravenous when school is over! We love to try out new snack ideas, and I think that simple and quick is always best at keeping little tummies happy and little attitudes from turning hangry.  
I want to show you a few of our favorite ideas, and then give you a couple of links for our other favorites around the web.
YOGURT PARFAITS
My two girls have a hard time with dairy, so we almost never have milk or cheese in the house. Cultured dairy, however, is much easier to digest and has amazing probiotic properties. While we still don't eat it often, my kids enjoy it when I purchase (or make!) full fat, organic yogurt.
I always buy plain yogurt and add our own sweetener to it. That way, I control how much sweetener is in each portion.
For parfaits, I stir plain, full fat yogurt with a little bit of maple syrup and vanilla extract (about 1 tsp each for 1 ½ c yogurt). Then, I let my kids build their own little mason jar parfaits!
Today I had strawberry jam, pear preserves, and sliced canned peaches, all homemade and home canned, for adding flavor to the parfaits. I let the kids do a layer of yogurt, then a layer of jam or fruit, then repeat the process.
You could also use whatever fresh fruit you have on hand, applesauce, or frozen berries.
They top their parfaits either with chopped nuts (raw or toasted), or granola – then they dig in!
Yogurt parfaits also make a great on-the-go breakfast for those days your kid presses snooze on his alarm too many times and has to eat breakfast in the car... I know that happens at your house, too.
APPLE SANDWICHES
This is one of our favorite fun snacks. Since we don't have gluten in our house, and most gluten free bread is full of heavy starches and preservatives, we love to get creative with alternative sandwiches! We're rebellious that way.  
Start by slicing an apple in thin slices, coming at it horizontally (starting at either top or bottom, and working down or up). You want the core to still be in the middle of the apple. I like to use my mandolin slicer, but a sharp knife works just as well.
Once you have your slices, cut the core out of each slice with a small, sharp knife.
Then, take one slice and spread with your desired nut butter (almond, cashew, crunchy peanut butter), and drizzle on some honey (raw, local honey is best).
Top with another slice of apple and eat!
Make sure to have a napkin or towel nearby; this snack is messy!
APPLE FLOWERS
This is my fall back snack. It is a crowd pleaser every time, and it's quick and easy. I confess that I often eat this at night, after the kids have gone to bed. It's just so good.
Slice an apple (regular slices this time, nothing fancy).
Put about 1-2 Tbsp nut butter in a small bowl.
Add shredded unsweetened coconut, and sprinkle in some cinnamon. Stir well.
Arrange apple slices around the nut butter so that they look like the petals of a
flower.
Serve!
Other quick snacks include:
Raw veggies and hummus
Homemade trail mix

(we love raw almonds, raisins, unsweetened coconut flakes, roasted cashews, goji berries, pumpkin seeds, and mini chocolate chips. Customize! Have fun!)
Fruit
Plantain chips and salsa
Popcorn
Larabars
Boiled Eggs
Smoothies
That's it! Those are some of our favorite quick and easy snacks!
Below are a couple of our make-ahead snack staples from some of our favorite blogs. Hope you can find some new favorites!
No Bake Healthy Granola Bites
(we use gluten free oats)
Homemade Larabars (we form these into balls instead of bars)
Be sure to catch me on Instagram at @eating_for_eliza, or on Facebook, or at eatingforeliza.com! Happy snacking!