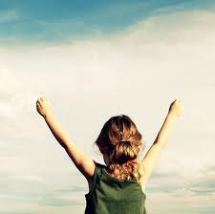 I AM STRONG! 
IT IS SAFE TO BE STRONG!
Here we are 15 days into our brand new year.  How are you feeling?  Are you excited about all the possibilities of the new year...or has the excitement worn off and have you slipped back into your old familiar routine, leaving behind your new dreams?
Do not despair!  You can get that excitement back! 
Here are 3 tips that will help you get back on track:
1.  Take time for you each day - even if it's just 15 minutes!
 (pray/meditate, exercise, eat healthy, read or listen to something inspiring, journal)
2.  WRITE down what you want to accomplish this month, MAKE A PLAN for HOW you will accomplish it and then GET STARTED TODAY!  Make your plan simple steps.  Review at the end of the month & Repeat! 
Still not feeling it?  Not feeling strong enough to get going?  Feeling uncomfortable with change, letting go of the past and moving forward?  That is normal!  That leads us to step #3!
3.  Every morning take a minute or two and STAND like the little girl in the picture above!  Some call it the super hero stance.  I know it seems silly, but you will be surprised at how quickly it will shift your energy from dreading what's ahead of you, to confidence & inner strength!
YOU'VE GOT THIS!!
BE STRONG!
Jen Poulson, Energy Coach
http://www.jenpoulson.com
205-835-1968