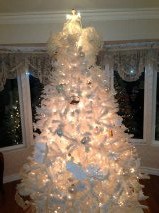 Fifteen years ago my husband's parents started a beautiful Christmas tradition that has blessed our family's life.
They bought a white Christmas Tree and explained that it was symbolic of God's love.  They asked each family member to choose or make an ornament that was symbolic to us of God's love or of something we had learned throughout the year.  We each wrap up our ornament and write them a letter explaining the reason we chose the ornament and what it means to us.  The Sunday before Christmas we have a special family dinner and then we gather in the family room where the white tree is, and from youngest to oldest, take our turns giving our ornament to them.  The little kids sit on Grandpa's lap while Grandma opens the small gift and hangs it on the tree.  Grandpa reads the letter out loud.  Many sweet and beautiful insights are shared by each person...feelings of life's experiences and lessons are expressed in these moments that otherwise would be kept silent.
For me, it is a wonderful opportunity to look back over the year and recognize what I have learned and what I appreciate more fully.  I love the time to reflect on how my life has been blessed - even through all the ups and downs.  It is also a special moment of connecting as a family and seeing the divine in each other a little more clearly.  Although this year will be the last year we gift ornaments to Grandma & Grandpa, the memories we have created over the years will last an eternity.
Jen